Bojonegoro, Indonesia – OGP Subnational Pioneers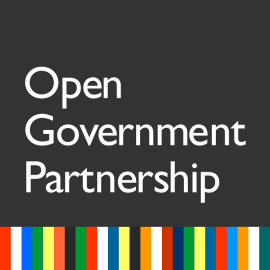 The Open Government Partnership (OGP) is launching an exciting new pilot program designed to more proactively involve subnational governments in the initiative. OGP is a 69 country partnership aiming to secure concrete commitments from governments to promote transparency, empower citizens, fight corruption and harness new technologies to strengthen governance. OGP is looking for subnational governments with committed political and working level reformers, and engaged and energetic partners in civil society, to take part in a pilot program designed to advance open government reform.
Bojonegoro, Indonesia, was one of the subnational governments that successfully applied to engage directly with OGP in a pilot 'pioneer' program. Participants will receive dedicated assistance and advice from the OGP Support Unit and OGP Steering Committee to develop and fulfill independent open government commitments in action plans, in partnership with civil society organisations. They will actively contribute to peer learning and networking activities with other subnational governments. The commitments and short action plans developed by the pioneers will be assessed by OGP's Independent Reporting Mechanism (IRM). The pilot will give OGP the opportunity to test and assess the IRM's capacity to act as the accountability mechanism for subnational government participation.
The following text is from Bojonegoro's application letter, available as images below.
Numb. : 489/0109/412.45/2016
Bojonegoro, 24 February 2016
Dear OGP Steering Committee
Case : Participation Bojonegoro in Open Government Partnership 2016
We make this letter for the sake of participation in Bojonegoro in the Open Government Partnership (OGP ) 2016 on Pilot Project Transparency of Government at the Local Government level. In general, Bojonegoro, has a population of 1,450,889 inhabitants, an area of 230 706 hectares, of which 40.15% is forest area, while 32.58% are agricultural areas as well as the oil and gas producing regions contributed around 20% of Indonesian oil and gas reserves. Most of the residents are farmers and farm workers. Bojonegoro, as well as disaster areas that flood during the rainy season and drought in the dry season. Is administratively divided into 28 districts, 419 villages and 11 urban villages.
Our interest on this program, based on the idea that openness is the key principal in the public welfare, the issue will be complete well, if all elements of society involved in every stage. For that openness will materialize governance dialogue, distributive, and changes in governance democracy based on ego that puts the conflict into an eco-based democracy that emphasizes unity among human beings, human beings and nature. For the Government of Bojonegoro, open government is committed to implement sustainable.
Bojonegoro Regency Government implement government transparency by conducting" Sobo Pendopo "packaged in "Public Dialog", since March 14, 2008. The community is given flexibility to deliver a variety of problems that happened to the Regent and the entire staff in order to get a solution. Public dialogue held every Friday starting at 13:00 to finish, except on national holidays and the month of Ramadan as well as the on-air broadcast on Radio Malowopati Madani Radio 95.8 FM and 102.5 FM, attendance levels are directly in marquee average of 100-150 people.
Implementation of the public dialogue, until the month of January 2016 is recorded to have entered the episode II / 126 , where most issues raised by the community is about : infrastructure , bureaucratic reform and good governance, delivery of government village. Various problems expressed by the community through public dialogue, the average has been followed up and completed.
To facilitate access to the openness of government, government Bojonegoro has also implemented applications Complaints Service on-line People (LAPOR), Open Data and Monitoring System of the Presidential Work Unit Monitoring and Controlling Development (UKP-4) now have changed to the Office of Staff of the President (KSP). Therefore people Bojonegoro the majority of subsistence farmers and farm workers, then access the openness of government based on Information Technology integrated with access to information disclosure of non-Information Technology existing in Bojonegoro, among others: "ngetril" (ride the bike trail) conducted by Regent and its board primarily to see firsthand the condition of society in areas difficult to reach, SMS direct access to the Regent / Deputy Regent, the regional Secretary and the heads of local devices, SMS and complaints through Malowopati Radio 95.8 FM, the use of social media, twitter, facebook and whatsApps. All information and the complaint is entered into the system menu LAPOR app notifications. Development of information access integration into Information Technology -based information access is called SIAP LAPOR (System Integration Aspiration-Service Complaints on-line People), as the implementation of Bojonegoro Regent Regulation No. 30 Year 2013 on Innovation Management Development based on Public Participation.
Follow-up of community complaints through SIAP LAPOR , Work Units (SKPD) should have provided an answer not later than 5 (five ) working days and upload it into the whole system of follow-up results . Activities addressing the many problems in government openness, the evaluation conducted by the Regent regularly every Friday from 08.00 until 12.00 on Performance Evaluation activities. 24-hour meetings that take advantage of social media mebuat WhatsApp with several groups and to share issues to follow-up by the Head SKPD and the parties who are members of the group WhatsApp.
Implementation of government openness has changed the culture of Bojonegoro not just "complain and complaints", but has grown to learn from each other to provide solutions and inspiration / ideas. The activities program of the government that comes from inspiras /ideas of society that have been implemented by the Government of Bojonegoro, among others: the construction of roads with paving (more scalable and minimize corruption), the construction of reservoirs, the management of oil and gas resources, allocating grants high school students for two million to increase long learning, mentoring Civil society Organizations (CSOs) to rural community development activities. In addition, the openness of government, has transformed the delivery mechanism of the aspirations of the people through the mass mobilization (demonstration), has been shifted by means of public dialogue and access to existing information disclosure in Bojonegoro. Therefore, within one (1) year, the average aspiration society with relatively little mass mobilization, less than five (5) times.
The information needs of the public to information and data organizing government has been uploaded on the website Bojonegoro Regency Government (http://bojonegorokab.go.id/ ) as well as the website and Documentation Information Management Officer ( PPID ) http://PPID.bojonegorokab.go.id  and website data portals Indonesia http://data.ukp.go.id/organization/bojonegoro.
The practice of government openness Bojonegoro, has become a study of the various regions, they have become part of the democratic implementation of research conducted by Otto Scharmer in the book of : Leading from the Emerging Future: From Ego to Eco-System -System Economics (by C. Otto Scharmer and Katrinkaufer, 2013). Besides, the practice of openness Bojonegoro regency administration has published through various media, among others:
Various civil society organizations (CSOs) in Bojonegoro has a joint venture engaged in the development and openness of government, among others, is Bojonegoro Institute (BI), and CSO Institute of Development of Society (IDFos). CSO involvement Bojonegoro Institute (BI), among others, in the formulation of Bojonegoro Regent Regulation No. 40 Year 2014 on Guidelines for Information and Documentation Services in the Environment Government of Bojonegoro. In addition , it is also involved in the formation of Documentation and Information Management Officer (PPID ) in each SKPD, preparation of list of Public Information (DIP) and increased service capacity of public information, the formulation of the endowment. While the IDFos, among others, in the formulation of Bojonegoro Regional Regulation No. 5 of 2015 concerning Corporate Social Responsibility (TSP).
Openness of government in Bojonegoro, will be improved to village level, through the data revolution and improve access to information is entered directly by the public. In the future will be enhanced cooperation with relevant CSOs mentoring community empowerment and openness of government. We hope that out experience in our place will be usefull for other developing region/countries in enhancing openess and inovation.
An honor for Bojonegoro Regency Government to be able to join in Open parnership Government to further strengthen government presence in the community, dialogue and distributive.
Copies submitted to:
Dear
Minister PPN/ BAPPENAS RI in Jakarta;
Seknas Open Government Indonesia in Jakarta.
source : http://www.opengovpartnership.org/node/8968
Versi Surat Asli Scan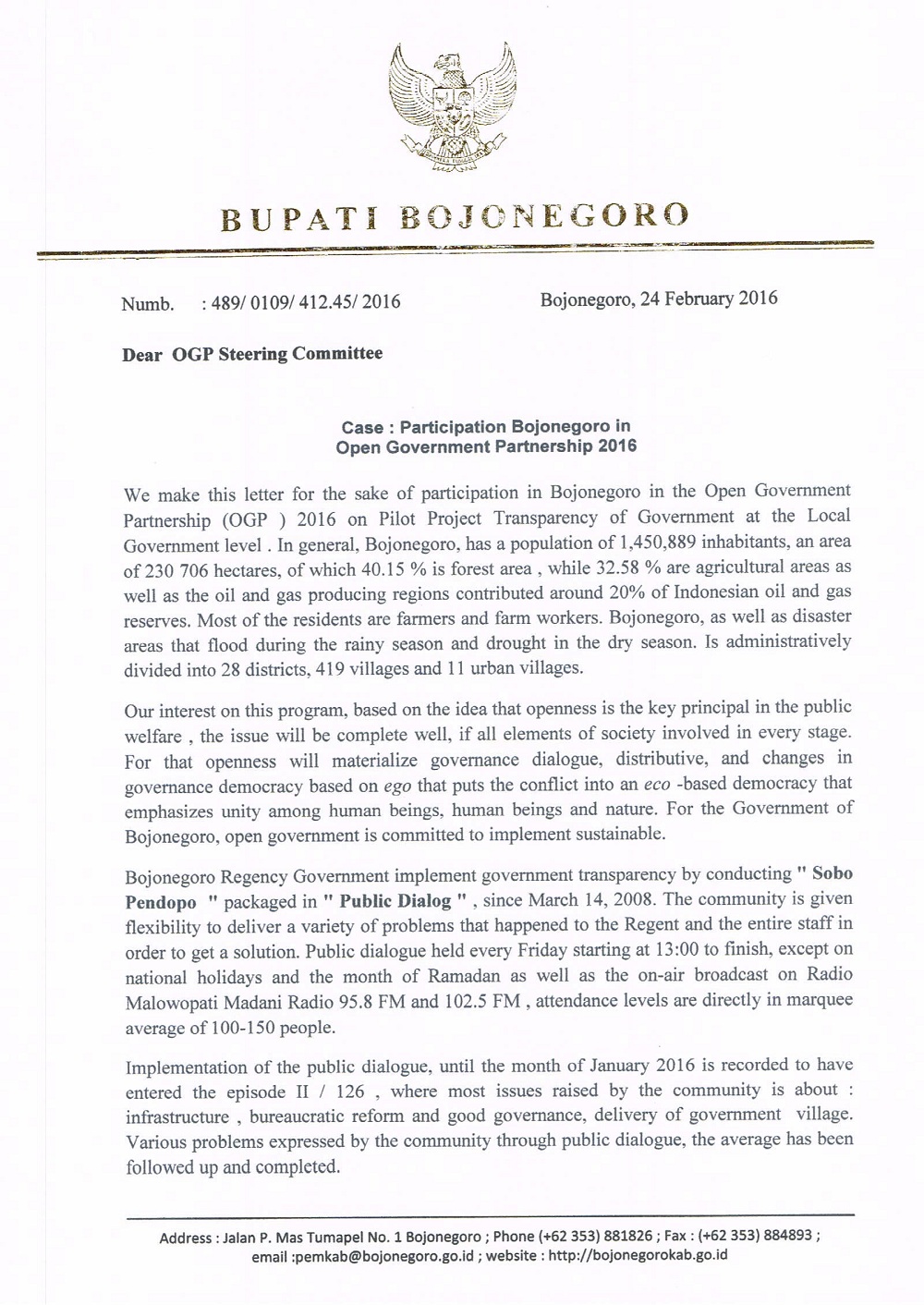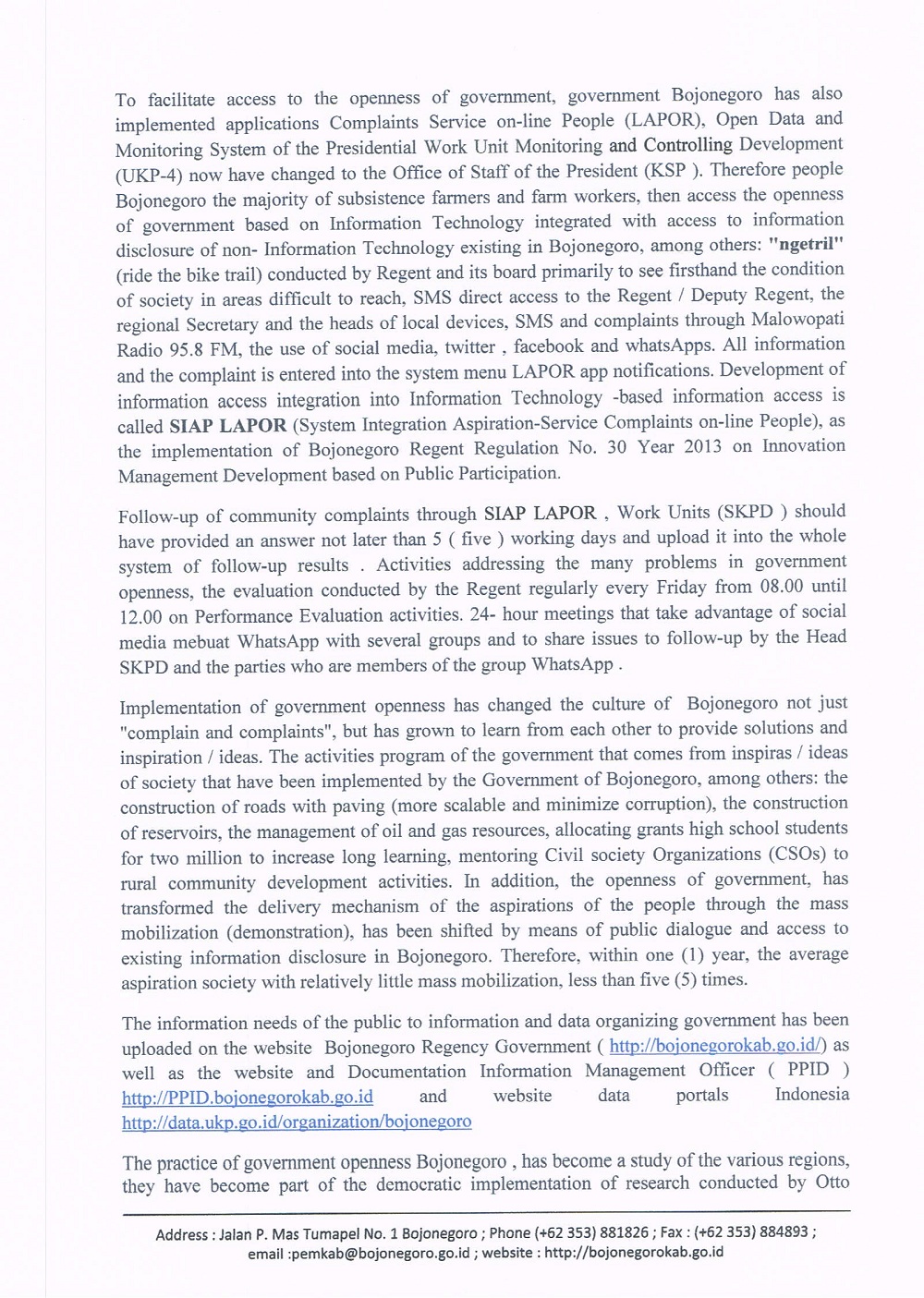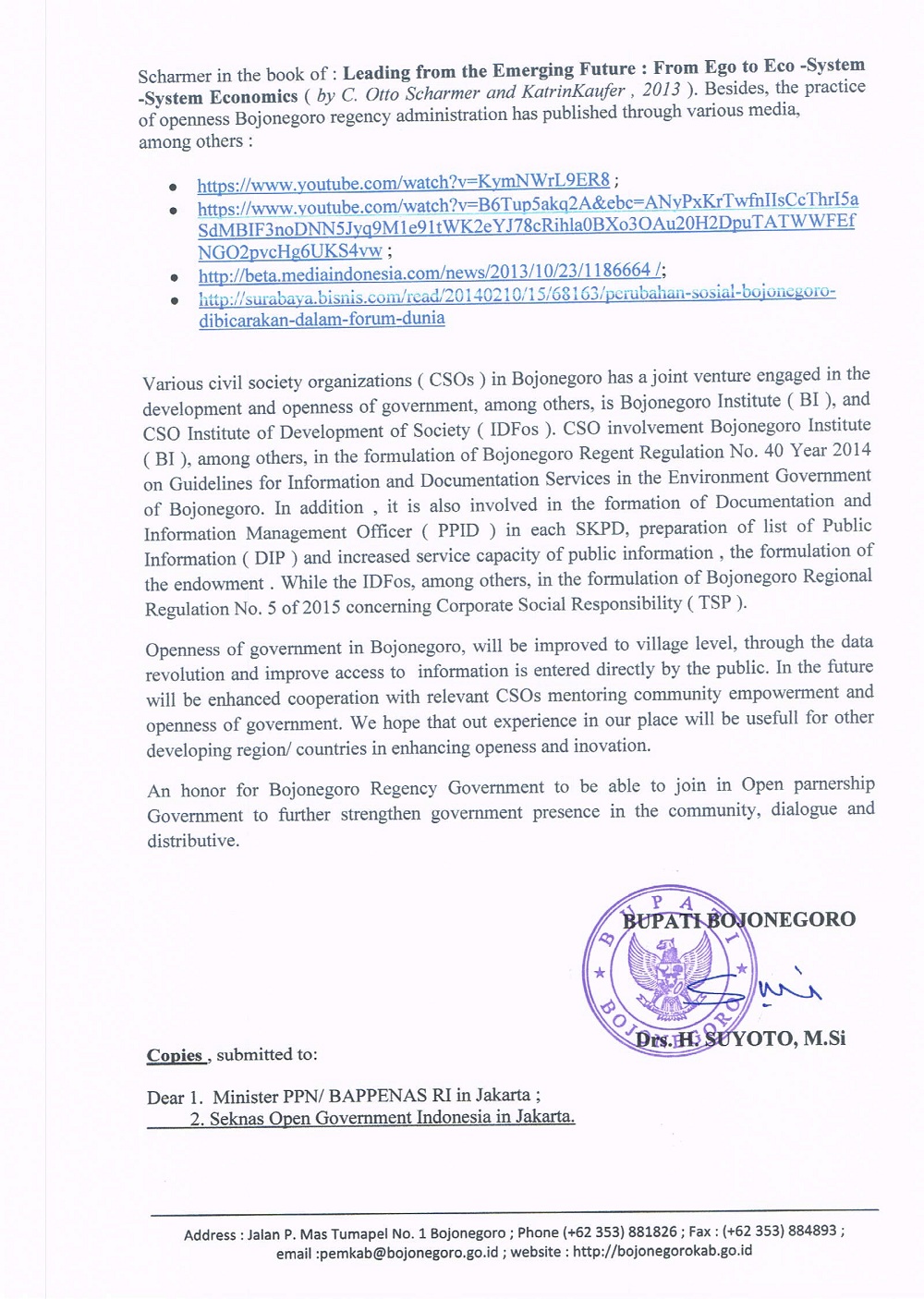 Related posts